We Are The Future In Quality Aluminum Melting Furnaces
Fulfilling a Need
Since its conception in 1985, Thermtronix® Corporation built and has upheld an international reputation for superior quality and reliability. Initially the founders sought to fill a need by creating a rugged resistance furnace capable of withstanding the rigors and heavy melt cycle requirements of the aluminum metal casting industry. The combination of years of expertise in the furnace industry, innovative engineering and manufacturing techniques led to the production of an unparalleled solid state electric furnace.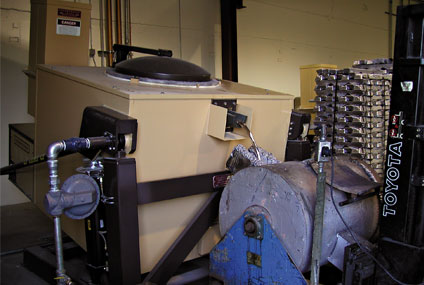 This cost-effective, energy-efficient solution came at a time of soaring energy costs and changing utility rate structures. Thermtronix® found themselves in the perfect position to develop new products in this high-demand market. They quickly got to work creating ground-breaking, high technology, solid state controlled, gas fired aluminum melting furnaces with the same quality, reliability, and metal temperature stability associated with the Thermtronix® brand. The key is continuous research and development. This not only enhances existing products, but creates a substantial foundation for more efficient melting furnaces to be manufactured in the future.
Our Furnaces & Products
We are a recognized worldwide leader in energy efficient, high performance, solid state electric and gas fired aluminum melting and holding furnaces for the foundry and die casting industries.
Thermtronix® offers an extensive array of solid state controlled aluminum melting and holding furnaces in both electric resistance and gas fired models. Ancillary aluminum quality control systems include both pneumatic and electrically operated Autoclean Rotary Degassing Systems: RATS (Reduced Atmosphere Testing System) for qualitative porosity testing; and Q-Series Computerized Quantitative Porosity Measurement System.
Electric Melting Furnaces
Gas Fired Melting Furnaces
Magnesium Melting Furnaces
Degassing Systems
Low Pressure Furnaces
Porosity Testing Machines
Our Strategic Customer Service
Thermtronix® enjoys one of our industries highest rates of repeat sales. The reason is simple, satisfied customers. Look around, from the world's largest automotive manufacturers to the smallest job shops. You will not need to look far to find a Thermtronix Furnace.
Proven Performance
Reputation For Quality
Customer Oriented
Superior Service & Support
LeaderShip Team
Quality customer service is vitally important to the success of the company. When a call comes in, no matter the need, customers receive friendly service, rapid response, and intelligent, hard-working technicians at the ready to troubleshoot through any possible issue. Skilled factory direct employees at the regional sales offices are backed by a top-notch engineering team.
It is always crucial to have quick response times. Thermtronix® has computer aided application engineering, design, manufacturing and troubleshooting to quickly address any customer's need.