Gas Fired Melting Furnaces
Aluminum Melting Gas Fired Furnace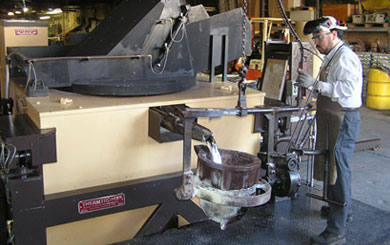 SOLID STATE HIGH PERFORMANCE ENERGY EFFICIENT GAS FIRED ALUMINUM MELTING FURNACES
Thermtronix® is renowned for its cutting edge solid state technology, high efficiency, and reliable gas-fired aluminum melting furnaces. All furnaces are factory assembled, pre-plumed and wired in the rear furnace enclosure and sent through rigorous full-load testing before they are shipped ready for operation.
Thermtronix® builds added value into every gas-fired furnace with incredible standard features like:
A computer designed four-component refractory insulating system
A heavy duty fabricated steel shell
The unique "Lip Seal" design
A hydraulically operated insulated furnace lid with operator hand valve
All these features combined help to increase efficiency, reduce metal contamination and energy loss, maintain structural integrity, and extend service life. Thermtronix® stands behind each and every product produced. All products are backed by an industry exclusive Total System Warranty that includes parts, labor and undeniable added value.
Available Models
Standard Features
High Performance Combustion System
Fully Automatic Power & Temperature Control
UL Listed & Classified Flame Safety Controls
Computer Designed Insulating System
Energy Saving Pneumatic Lid