Porosity Testing Measurement System
Aluminum Melting Porosity Testing System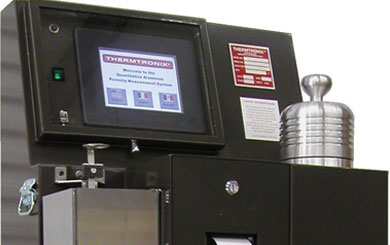 ALUMINUM POROSITY MEASUREMENT SYSTEMS
Thermtronix® Aluminum Porosity Measurement Systems boast breakthrough technology that provides precise, scientific, repeatable, and verifiable test results every time. All measuring systems including RATS™ Model 401 and the Q-Series units significantly aid in producing quality cast aluminum products. If quality is your goal, then having a Thermtronix® aluminum porosity measurement system on your shop floor is a necessity.
Available Models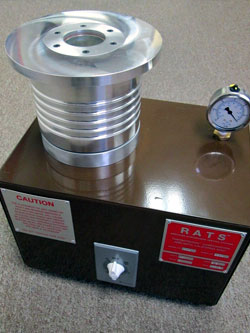 Integral Reduced Atmosphere Testing System (RATS), provides cost effective shop floor degassing and sample testing in a single unit.
Model 401 is a compact table top control system used for fast, accurate, repeatable and consistent testing of hydrogen gas levels in molten aluminum. This rugged, foundry proven unit can be placed within a few feet of melting operations for continuous quality level monitoring.
RATS™ permits a simple, highly accurate, automatically timed five minute test that can be performed by shop personnel and assures consistent quality levels before the metal is cast.
Quality Features for Consistent/Reliable Testing
Brass fittings and filter—eliminates corrosion
Fully adjustable brass needle valve with locking set screw—allows precise calibration
Spring return brass push button—permits quick release of vacuum chamber
Large clear dial vacuum gauge—calibrated for both 0-30" and 0-760 mm HG
Mechanical timer
Heavy gauge steel enclosure with plated steel carrying handles—protects all internal components
Heavy rubber vibration dampening feet—isolates unit from external vibration of surrounding equipment
Superior Vacuum Pump Features
True one-third horsepower two-cylinder, two stage
Permanent split capacitor motor
Oil-less non-lube piston and cylinder with permanently lubricated ball bearings
Stainless steel valves
Lapped aluminum valve plates
Vacuum test chamber with a precision machined base
Heavy wall aluminum chamber with a high temperature glass site port for viewing sample
Product Brochure
Download the product brochure in PDF format.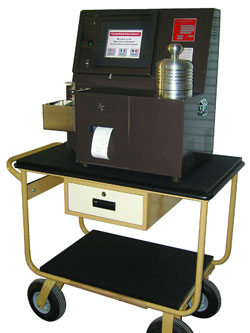 Thermtronix® Q-Series Quantitative Aluminum Porosity Measurement System is a computerized testing device that digitally measures, displays and records, in real time, the precise level of hydrogen porosity in a sample of molten aluminum.
This breakthrough technology provides precise, scientific, repeatable, quantitative and verifiable test results. Computerized, digital, measurements are converted to an exact percentage of aluminum porosity. The digital Q-Series Quantitative Aluminum Porosity Measuring System is complete with a certificate of calibration traceable to the U.S. Bureau of Standards.
Innovative Design for Consistent/Reliable Testing
Not affected by geographic location or atmospheric conditions
Supplied with a 120g, precision machined, serial numbered, aluminum sample for system certification and calibration
Uses the absolute pressure scale system
Unique stainless steel scale fixture allows for the sample weight to be measured in free air and completely submersed in water without reconfiguration.
Micro-processor controlled vacuum chamber
Digital test results that can be displayed, printed or transferred
Surface mounted USB port with flash drive
Hinged protective cover
Clear polycarbonate window for easy viewing of touch screen controls
Single point slotted latch—provides a tight seal and ease of access to all operator controls
Heavy-Duty Mobile Cart Features
14 gauge steel enclosure
9" pneumatic casters, with wheel brakes—assuring air-cushioned transport on rough floors
A lower, secondary shelf with a non-conductive, non-slip surface
A 15 amp UL Listed power strip
6 grounded outlets
Lockable utility drawer for ancillary supplies
Printer Features
Self-contained, bi-directional, serial impact, dot matrix printer
Fully enclosed behind a heavy steel door with latch for easy access
Operator friendly touch screen controls
Self-ejecting, printed receipt for each tested sample
Standard Features
Provides Precise, Scientific, Repeatable Results
Integral Solid State Vibration Monitoring System
Not Affected by Geographic Location or Atmosphere Conditions
U.S. Bureau of Standards Certificate of Calibration
Product Brochure
Download the product brochure in PDF format.
Standard Features
Provides Precise, Scientific, Repeatable Results