Electric Melting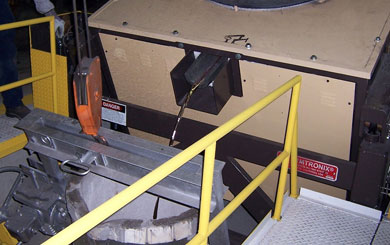 SOLID STATE ELECTRIC RESISTANCE ALUMINUM MELTING FURNACES
Thermtronix® Solid State Melting Systems represent the highest quality, most energy efficient, productive, aluminum and low temperature alloy melting system available on the market today.
Solid State Power Control
Heavy Duty Self-Supporting Power Panels
Uniform Cylindrical Heating Chamber
Micro-Processor Based Temperature Control
Multi-Layered Insulating System
Rugged "Total Access" Steel Frame Design
Gas Fired Melting
SOLID STATE HIGH PERFORMANCE ENERGY EFFICIENT GAS FIRED ALUMINUM MELTING FURNACES
Thermtronix® high efficiency combustion burner systems represent the leading edge of technology in gas-fired aluminum melting furnaces. Thermtronix® builds added value into every furnace.
High Performance Combustion System
Fully Automatic Power & Temperature Control
UL Listed & Classified Flame Safety Controls
Computer Designed Insulating System
Energy Saving Pneumatic Lid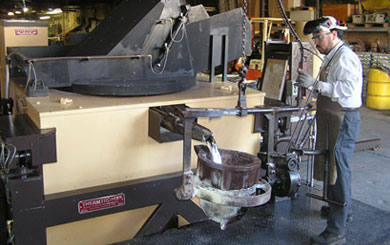 Magnesium Melting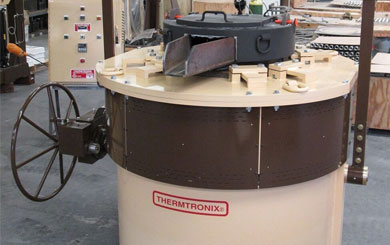 SOLID STATE MAGNESIUM MELTING ELECTRIC RESISTANCE FURNACES
Magnesium melting furnaces by Thermtronix® are available in stationary dip-out, hydraulic tilt/pour and removable crucible style furnaces. Reliable, economical and efficient melting of magnesium is now a reality for any facility.
Powerguard Heating Element Protection System
Safety and Health Inspection
Minimized Effects of Combustion By-Products
Solid State Electrical & Flame Safety Control Panels
Industry Exclusive Total System Parts & Labor Warranty
Degassing Systems
ALUMINUM ROTARY DEGASSING SYSTEM
Designed by Thermtronix® as a portable, lightweight, low cost cleaning system for degassing aluminum alloys in crucible type furnaces with precise, repeatable quality results.
Use with Nitrogen or Argon
Assures Environmentally Safe Working Conditions
Provides Consistently High Quality Aluminum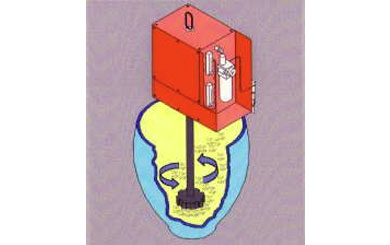 Low Pressure FURNACES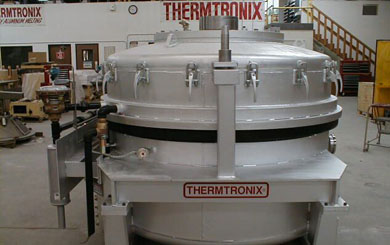 SPECIAL LOW PRESSURE ATMOSPHERE FURNACES
Extensive field operational data, combined with advanced engineering allows us to create a furnace design specifically for custom low-pressure casting applications.
Exceptional Furnace Temperature Control
Special Refractory Considerations
Pressure Pouring
Low Pressure Permanent Mold
Squeeze Cast
Semi-Solid Casting
Porosity Testing
ALUMINUM POROSITY MEASUREMENT SYSTEMS
Thermtronix® Aluminum Porosity Measurement Systems represent a generational leap in the scientific detection and quantitative measurement of hydrogen porosity in molten aluminum alloys. This breakthrough technology provides precise, scientific, repeatable, quantitative and verifiable test results.
Provides Precise, Scientific, Repeatable Results
Not Affected by Geographic Location or Atmosphere Conditions
U.S. Bureau of Standards Certificate of Calibration